Growth // Codex Newsletter
A Weekly Digest Dedicated To Helping You
Produce // Promote // Profit Better // Smarter
Welcome back – this will be our third issue and man has it been a rewarding process so far
Now, let's not mince words, sh*t is in fact nuts, but so far – the more of you I speak to, the more it's evident that you're a little weird too – a superpower when molded right
Lets get started
If you missed, or simply would like to reference the first two issues
Over the past week, (un)employment numbers show that we've either got to kiss more ass at work, or revisit how we tackle side hustles and our current work (we both know we're going to choose option 2).
At this point in time employment is abysmal in fact for some people not all getting a job is actually riskier than leveraging their talents // skills. So the first thing I will say is if you happen to be employed don't fuss keep the day job and use some of that income to invest in leveraging you
If you happen to not have started that you incorporated Thrival kit now is probably a good time to put it on your reminder and go check it out later
*You can find it easily by going into your inbox and searching for your confirmation email when you first signed up* 
If you need it resent – Email me and I'll resend.
Moving along 
Let's explore this weeks segment on improving how we
Produce
Pro Tip:
Money making isn't a thing you do – but a skill – and skills can be learned

Naval Ravikant
We all want money – but why?
New home? New car? Maybe you just want to stunt on the gram and show "the haters" a good show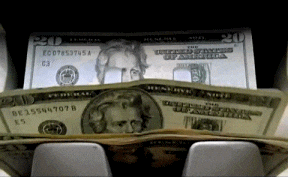 The one thing that frustrates so many of us is the "how" 
Which if you ask anyone, they tend to respond with "hard work". Lol, the thing is, It's not really about hard work. You can work a day job 60 hours a week, and chances are, you're not going to get rich.
With time, mistakes, and a ton of experience, we're learning that getting rich is more so understanding – ok, which mixed with knowing what to do, who to do it with, and when to do it lead to some badass alchemy.
It's like that saying 
"Measure twice, cut once" 

Proverb
Yes, hard work matters, and you shouldn't skip on it, it's the understanding that makes the difference
Take for example fellow members of this growing tribe, some take the info and make the necessary shifts
Some give the Flow State playlist a chance and
Keep in mind that for you, a creative, one of our coolest talents is to take the mundane, the same "stuff" available to everyone else, mix in your personal alchemy and create something better.
It's why we don't even pretend to have all the answers, but we can give you our perspectives, experiments and experiences.
For example, I was recently talking to a new member about his business goals, a few times he'd ask something I remember having covered on Twitter, IG, and the website
Each time I'd send him a link that was helpful to his questions, he'd respond with "ah man I totally missed that"
But after the 4th link it hit me
"He didn't 'miss it', we missed him"
The thing about producing better is understanding better – and we wouldn't be practicing what we post if we didn't catch that *special note: If you don't know yet what you want to work on, dedicate time to figuring it out.* While we may have put out the right stuff, it's not always going to be at the right time.
So we went back and took a look and discovered what got the
Why?
Because what people say and what people do aren't always going to be the same thing. Everyone wants more money, more info, better leverage, but how many actually do anything for it, with it?
What we've learned is that if we zeroed in on what people actually respond to, then we can repurpose the other content and info. It's in part why we pivoted to displaying more how to – break it down type content via this newsletter and Twitter; and less on IG.
Which takes us to the second and fun part of this segment, the part where we go over improving how you
Promote
Pro Tip:
Your customer isn't going to care about you (per say), they care about what you can do for them

Reality
Remember that last bit about understanding?
By now you've probably noticed that FB has built a nifty toll system for themselves via throttling reach.
Justtt in case you're not familiar with the term it means that their algorithm ranks your post, that score determines how much of your audience actually sees your posts. To increase your reach they encourage you to "boost" your post which actually means pay… pay for your own audience to see what you posted lol – while I can't knock their hustle, it has had negative side effects with its users
Following our mantra CREATE, Don't Compete, we could sit here and go over all the ways to "beat the algorithm" OR we could focus on improving our connection and communication with you, our audiences, and our customers
Here's where to begin:
Do you and your audience speak similarly? Use the same words?
If yes, awesome skip this list and proceed to the last step
If no, do this
Go to Instagram, Twitter (whatever social media you prefer)
Find 3 brands

similar

to yours
Go through the comments
What are they saying? What feedback are they sharing?

Put this in your messaging

, in your emails, in your website etc
If you and your audience resonate, you get each other, yours and their opportunities multiply, remember – a Win, Win, Win makes for a rapid growth business (like Airbnb, Uber, Calendly, etc).
Which reminds me, sales are a symptom
Let's wrap this issue off on a good note, how to better
Profit
Pro Tip:
If you have the skill and or opportunity to improve someones quality of life, do it

Katriel C. Sarfati
If you could make someones day for just 25 cents, would you?
Apparently, companies like Chipotle, don't find it worth it, recently we read that Chipotle's "free tortilla hack" was a customer favorite – as word of mouth traveled, Chipotle got wind of it and decided to begin charging $0.25 for a side tortilla…
From personal experience, there are better ways to respond, for example here's how I did when I owned a pizzeria
At that time I was a kid (20) so there was a lot of bumping around and figuring it out as I went. I noticed my customers were asking pretty frequently for our rolls (even the ones who didn't order entree meals).
SOOO I made 3 kinds & placed them front & center, and let folks pick their favorite, for free
It costs me 13 cents
Not only were return customers elated, but our returns on that 13 cent roll were 😍
Then I noticed that customers were asking for extra sauce in those plastic cups with the lid
At first, i shed a tear of joy, i had entered an industry at an early age and with no experience with cooking at that scale, i took great pride and put a ton of love into learning how to make authentic sauce, and so, I trained my guys to ask folks "how saucy do you want it?"
Guess what?!
Less requests
Less sauce used 
Happier customers
I can keep going w/ our tests but by now I think you get it.
There's this old adage I love, "just because you can, doesn't necessarily mean you should." Especially when you're in the Customer experience biz. Prices // Quality is one thing, hospitality is what kept them coming & bringing their fam & friends
Use this discovery strategy to uncover new customer behaviors, new needs, and emerging or nonexistent markets, new areas of opportunity (areas of opportunity) pairs great with your business // career
Alright, now off you go, test, tinker, and remember that the best place to start off is where most quit
Till next week, here's to escaping average
Your response and feedback helps us, help you, so
How did we do?
If you were sent this by a friend, colleague, family, etc join the all the Growth // Codex Newsletter, delivered to you every Wednesday